CHICAGO, IL -- Agamya Capital has published a report on its proprietary "Innovation-Enablement-Scale (IES)" framework to assess relative merits of capital investment opportunities in the food industry. The IES framework was driven by Agamya Capital's expertise in food and consumer sectors and its proprietary database containing nearly 45,000 related companies.
Private equity investors and executives in the food industry, alike, are confronted with the daunting challenge of sifting through numerous ideas to identify long-term winners and support those ideas with significant capital and resources. Furthermore, the relatively low success rate of new products exacerbates this challenge -- according to Datamonitor, failure rates for new food products can be as high as 50%.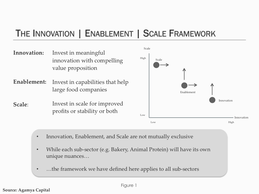 The IES framework (
see Figure 1
) helps identify companies with increased likelihood of success, by emphasizing market positioning and product development capabilities that best account for the following key principles:
Understanding demographic shifts can immensely help identify long-term winners.

The role of government in food safety and cross border trade can be a critical determinant of success.

Vanishing information asymmetry among producers and consumers will make it increasingly difficult for companies to differentiate.
The IES framework is considered to be a precursor to assessing critical organizational capabilities such as operational and manufacturing efficiency including co-packing relationships, distribution network and supply chain, organizational structure, and brand awareness and sales.

To predict the return on investments in Innovation ("I" in IES), the framework utilizes a "means" and "ends" argument (see Figure 2). For instance, aspects such as gluten-free and all-natural are ubiquitous. The IES framework considers gluten-free as the means, and Health & Wellness as the end. The framework further links the end (i.e., Health & Wellness) to demographic shifts (e.g., increasing lifespan combined with increasing healthcare costs) and government influence (e.g., Nutrition Labeling and Education Act) (see Figure 3).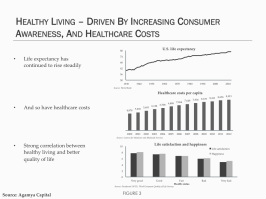 After making such simple yet subtle linkages, the framework recommends assessing the relative weightage of organizational capabilities between means (gluten-free) and end (health & wellness) and posits that the greater the emphasis on the end, the higher the long-term staying power of the company. Simply put, the means can have short shelf life (e.g., Atkins, South Beach), and companies who are in tune with underlying themes and have the requisite adaptability can survive and thrive.
Furthermore, the framework provides a simplified lens through which to view, articulate, and segment innovation (see
Figure 4
). The Innovation Models (i.e., Product vs. Business Model vs. Process Innovation) provide a powerful tool to assess the competitive landscape and the relative differentiation and sustainability of a company's product offerings.
To learn more, please contact us at
inquiry@agamyacapital.com
.
About Agamya Capital

Agamya Capital is a leading independent private equity investment advisory firm, and its clients include some of the largest family offices and leading private equity firms in the US.
The firm develops unique, data driven insights by utilizing its proprietary knowledge base and expertise to help private equity clients make new investments, conduct operational due diligence, and improve the performance of portfolio companies.
Inquiries

312-277-0117
inquiry@agamyacapital.com