CHICAGO, IL -- To better understand current trends in the Food & Agribusiness industry, Agamya Capital recently conducted comprehensive research on transaction multiples across various sub-industries. Some of our findings from the research are outlined in this paper. The study was driven by Agamya Capital's expertise in food and consumer sectors and its proprietary big data capabilities.

Key Trends

As to be expected, strategic buyers typically pay a premium over financial buyers. We found that within the US, transactions involving strategic acquirers had valuation of 1.5x EBITDA more than transactions involving financial acquirers.



The US is still the most active market for M&A activities in the food & agribusiness industry, accounting for nearly half of all transactions.



Moreover, the correlation between ROIC and EBITDA multiples is not as clear as one might expect. As a result, we looked deeper to better understand drivers of valuation. We found that companies that are more acquisitive have higher trading multiples. For example, within ingredient companies, 70% had completed at least one acquisition from 2013 – 2015, and for those companies, EBITDA multiples were 13.2x, compared to 10.9x for those who had not been acquisitive.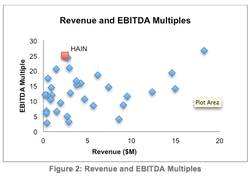 In Figure 1, data points with the low ROIC but high EBITDA multiple are primarily larger companies, implying a scale premium. For example, as seen in Figure 2, companies with revenue greater than $1 Billion have 13.4x EBITDA multiple versus 10.4x for companies with revenues lower than $1 Billion.

Findings Consistent with Agamya Capital's Previously Published IES Framework
Moreover, these exceptions align with Agamya Capital's theme of the "Continuation of Commodity Roller Coaster". We posit that larger companies that can withstand fluctuations in commodity prices due to their size and hedging strategies are rewarded by the market accordingly.
When reviewed through the lens of Agamya Capital's previously published Innovation-Enablement-Scale ("IES") Framework (SM), markets clearly reward combination of Innovation and Scale. For example, Hain Celestial, with a multiple of 25x EBITDA, launched 200 new products in 2014 and also recently acquired two companies to further diversify its portfolio.
The valuation for HAIN is also supported by the "Healthy Living and Convenience" theme identified in Agamya's Perspectives on the Food & Agribusiness industry, published in Winter 2015. For example, organic products are expected to grow at nearly 10x the growth rate of the overall food industry, which is among the key drivers for its high valuation.
To learn more, please contact us at
inquiry@agamyacapital.com
.
About Agamya Capital

Agamya Capital invests in privately held companies and helps management teams overcome resource and capital constraints, and thereby capitalize on long-term and near-term growth opportunities. We work in partnership with portfolio companies to identify and implement actionable strategies to drive growth and operational performance. Our capital comes from US based family offices with substantial resources and networks.
Inquiries

312-277-0117
inquiry@agamyacapital.com