CHICAGO, IL -- Agamya Capital has developed "Total Cost of Manufacturing", a framework to assess the key drivers of competitiveness in the manufacturing sector. The TCM framework was driven by Agamya Capital's expertise in the manufacturing sectors and its proprietary database containing nearly 100,000 related companies.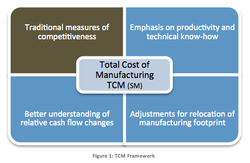 TCM includes the traditional measures of competitiveness but places additional emphasis on productivity and technical know-how. In addition, TCM attempts to better understand the relative impact on cash flow due to changes in inventory levels that would be prompted by relocation of manufacturing to the US.



Drivers of Sustained Competitiveness
Although TCM factors in the impact of productivity from a traditional standpoint ($GDP/per person employed), it places more focus on the core drivers that create a highly productive manufacturing environment. These core drivers of productivity will help a sophisticated practitioner develop a long-term view of the manufacturing competitiveness of a particular country. We believe that the key drivers of long-term business efficiency are volume of talent, training (infrastructure), and culture. How do these drivers specifically impact long-term profitability? A country that has a scarcity of human capital leaves a company highly exposed to the possibilities of wage inflation, which is not revealed by a superficial analysis of historical wage rates.




For instance, in countries like Japan and Russia, the workforce is expected to decrease by 10-15% by 2025, while countries like the US and China are expected to see workforce growth of 10-12%. However, having a large workforce does not in itself make one country more favorable than another.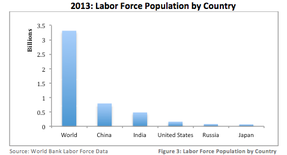 A recent survey of more than 800 U.S.-based manufacturers indicates that 90 percent face a moderate to severe shortage of skilled production employees; 83 percent indicate that a shortage of skilled labor is affecting their ability to serve customers. For example, in the case of high value-added manufacturing, flexible workloads, team-work, multi-tasking, and problem solving skills are paramount. A country's culture can have a significant influence on the worker's capability to thrive.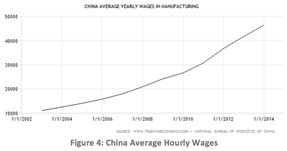 It may seem that the US is approaching parity due to low wage inflation, a stable dollar, and relatively lower energy costs. For instance, China has seen wages increase by 330% during 2003 and 2014, while wages in the US are more stable. However, such an analysis is insufficient to assess the US' competitiveness across all industries. For example, in an industry such as cable and wire manufacturing, employment has dropped by 80% or 2 million over the past 50 years, and therefore it will be challenging to find the workforce with requisite skills.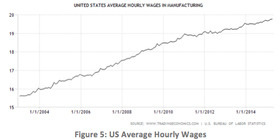 Training workers with little or no experience on extrusion machinery could result in large initial scrap percentages until workers become acclimated to the machinery. Industry experts say that it takes the average worker up to 3 years to become acclimated to the new machinery All these issues will result in significant temporary increases in the cost of producing cable, a product that is generally characterized by intense price competition. Even momentary changes in cost competitiveness could cause material losses in market share.

Conclusions
Several viable manufacturing hubs have emerged globally over the years. To launch a successful manufacturing renaissance in the US, we must not only focus on relocating traditional industries, but also on emerging industries. Based on the assessment of various industry segments through the lens of the TCM framework, we believe that select segments, particularly those requiring significant IP and engineering talent, will continue to thrive in the US – however, rapidly developing economies like China and India will continue to close the gap due to the abundance of talented labor while further being slowed by cultural and productivity gaps.
To learn more, please contact us at
inquiry@agamyacapital.com
.
About Agamya Capital

Agamya Capital invests in privately held companies and helps management teams overcome resource and capital constraints, and thereby capitalize on long-term and near-term growth opportunities. We work in partnership with portfolio companies to identify and implement actionable strategies to drive growth and operational performance. Our capital comes from US based family offices with substantial resources and networks.
Inquiries

312-277-0117
inquiry@agamyacapital.com