CHICAGO, IL -- Agamya Capital has conducted a comprehensive assessment of the foodservice industry to identify recent notable trends. As the foodservice industry landscape continues to change, both investors and executives in the industry must respond accordingly in order to keep afloat and come out as winners.

Notable Trends
The restaurant industry is expected to grow at 4% from 2013 to 2018, driven by economic conditions, dual-earners, and convenience.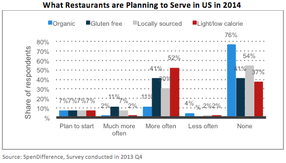 1) Consumer awareness about quality and healthy choices is rapidly increasing. US consumers are increasingly pursuing gluten-free and light/low calorie diets. Concern regarding child obesity is a key driver for the push towards healthy diets. Obesity rates for 12-19 years old increased to 20.5% in 2012 from 10.5% in 1988.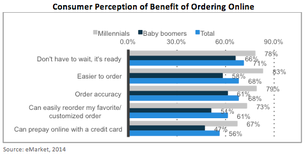 2) Driven by convenience, online and mobile ordering is becoming increasingly popular. In 2014, dual-earner households accounted for >50% of total households leading to increasing need for convenience. Yum! reported $1B of digital sales at Pizza Hut in 2013, and observed that customers tend to spend more when ordering online.




3) Consumers are asking where their food came from and what environmental impact did it cause, leading to a more sustainable and transparent supply chain.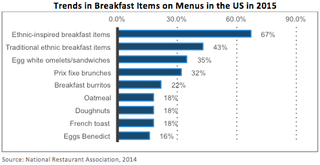 4) Higher growth rates among non-white minorities is a major driver of ethnic cuisines. In 2014, Asians and Latinos made up 5.4% and 17.4% of the population and in 2060, projected to be 9.3% and 28.6%.


5) Furthermore, targeted loyalty programs and promotions are an important mechanism to retain and attract customers. Even though consumers continue to be cautious, they are willing to 'trade up' for quality and healthy foods. While 28% of consumers agree that fast casual restaurants are expensive, 37% say they are influenced by deals. As a result, fast casual is expected to grow at 8% compared to 4% for QSRs.




6) M&A activity has been on the rise in the last 12-18 months. 10 out of 26 M&A transactions in 2014 were financial acquisitions by PE firms mostly focused on restaurant industry.

About Agamya Capital

Agamya Capital invests in privately held companies and helps management teams overcome resource and capital constraints, and thereby capitalize on long-term and near-term growth opportunities. We work in partnership with portfolio companies to identify and implement actionable strategies to drive growth and operational performance. Our capital comes from US based family offices with substantial resources and networks.
Inquiries

312-277-0117
inquiry@agamyacapital.com