CHICAGO, IL -- To better understand the current packaging industry landscape, Agamya Capital has analyzed detailed information on M&A in the industry. Through this assessment, Agamya has identified drivers of strategic acquistions as well as trends in valuation. Some of our findings and analyses are outlined below.

In the Packaging Industry, Strategic Acquisitions Have Recently Outnumbered Financial Acquisitions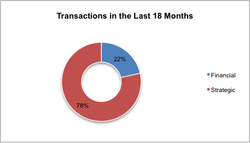 Strategic acquisitions accounted for 78% of packaging industry transactions in the last 18 months.

PE backed packaging companies have also been active as strategic buyers, accounting for 16% of strategic acquisitions.
In the last 18 months, Paper, Plastic, Label, and Flexible are the four sub-industries where most transactions happened.

Among companies with up to $500M Enterprise Value, scale could give premium to valuation.

The one significant outlier is "CSP Technologies", which was acquired by Wendel, an investment firm with long-term hold. CSP Technologies received a high multiple mainly because of its patent-protected technologies, the worldwide leading position in the niche growing market of desiccant plastic vials for diabetes test strips, and its international manufacturing and customer relationships. Even though the company doesn't have a significant scale, the growth potential is significant.

We believe four distinct aspects are driving strategic acquisitions:

Drivers

Acquire new technologies to improve current product lines

Broaden product offerings and enter new markets

Expand geographic locations domestically and internationally


Reduce manufacturing, handling and transportation costs


Examples

NorPaper acquired DS Smith's Nantes mill to enhance production of white top recycled testliner


RPC Groups acquired Promens to extend product range to automotive, electronic sectors, and more


Pretium Packaging acquired Intertech Corporation to expand to North Carolina region


Multi Packaging Solutions acquired North American and Asian print businesses of AGI-Shorewood Group. The two companies serve similar markets, so the acquisition could reduce logistic costs and improve efficiency

About Agamya Capital

Agamya Capital invests in privately held companies and helps management teams overcome resource and capital constraints, and thereby capitalize on long-term and near-term growth opportunities. We work in partnership with portfolio companies to identify and implement actionable strategies to drive growth and operational performance. Our capital comes from US based family offices with substantial resources and networks.
Inquiries

312-277-0117
inquiry@agamyacapital.com